Ring Commons Sports Centre a Brief History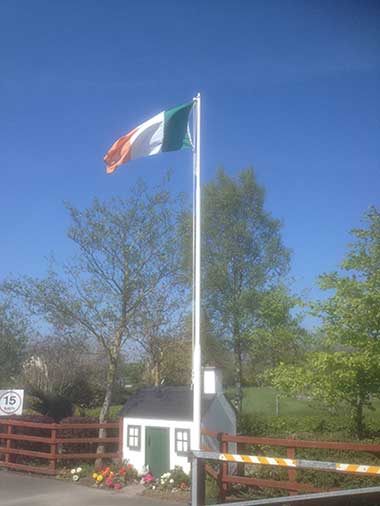 Ring Commons Sports Centre was founded in 1977 by a group of young people from the Ring Commons Community. Initially the main interest was in Cricket as many young men from the Ring Commons area were playing Cricket for other neighbouring clubs. These young men organised themselves and came together to form their own Cricket Club, (Ring Commons Cricket Club).
As this group of people did not have any grounds to play on, they proceeded to reclaim a portion of the commonage (wetlands) at Ring Commons.
This was done with the permission of the local landowners as they had grazing rights to the commonage.
Through strong fundraising and voluntary labour a portion of commonage was drained and transformed into a playing field. This was then called Ring Commons Sports Centre as this field could facilitate other sports in addition to cricket and would be available for the people of the Ring Commons Community.
The Cricket team enjoyed great success and brought recognition to RCSC. The Centre expanded and brought interests in various other sports.
In 1990 further development took place in order to facilitate the local national school with a football pitch.
In 1993 RCSC through FAS set up a Community Employment Scheme as the facilities was now growing both in size and popularity.
Through Community Employment, RCSC has been recognised both locally and nationally winning various awards and been represented on national Television for its achievements.
Ring Commons Sports Centre is now the centre of the community and strives to meet the needs of the community, sporting and other.
In the early 90's the cricket team disbanded as other sports strengthened within the Centre and larger cricket clubs tended to have more to offer cricket players.
Through fundraising, voluntary labour and a grant from Fingal Co Council, RCSC erected a permanent building in 1997/1998 which boasts of 4 dressing rooms with showers, an office from where the Community Employment Scheme is managed, a kitchen, and a meeting room which is used for all community events.
In 1998 Ring Commons founded its own Pitch and Putt club and proceeded to develop and 18 hole course. This project was very successful and the Pitch and Putt club grew from strength to strength over the years. The participants on the Community Employment Scheme take particular pride in the course and seeing it develop over the years. This is now seen as one of the major attractions within RCSC and has also been recognised nationally.
After successfully completing an approved land fill through Fingal Co Council RCSC converted a site into an area to facilitate three full size soccer pitches. In 2010 an extensive drainage programme was carried out on this area, the area was then developed and seeded.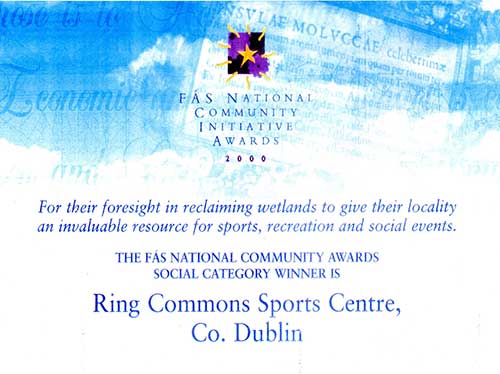 In 2011 a proposal was brought forward to re-introduce a cricket club to RCSC. Many local players as in years previous, were playing for neighbouring clubs and decided that they could now start their own club and bring cricket back into Ring Commons. This caused much excitement within the centre and RCSC set about planning this immediately. The executive committee allocated funds towards this project and immediately started construction on a cricket pavilion and an artificial all weather wickets.
Ring Commons Sports Centre is the only organisation of its kind in the wider Fingal area. With its unique history and humble beginnings this organisation has grown over the years to now be recognised nationally.
This centre is a shining example of what can be achieved through Community Employment, Dublin Rural Leader, Fingal County Council and the Community working together with a strong vibrant committee and community support.
All involved are very proud indeed.